CELEBRATE CAT! CELEBRATE SCHOOL CHOICE!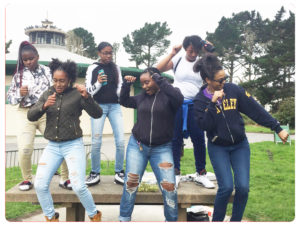 You're invited to City Arts & Tech High School in San Francisco, for a National School Choice Week Celebration!
Join us for free food, music, info and fun!
January 22, 2018 | 5-7pm
at City Arts & Tech High School
325 La Grande Ave. In SF
Find out why our free, public, charter high school in excelsior is a high-quality option for your family!
COLLEGE PREP:  This is who were are and what we do. And we do it really, really well.
COMMUNITY: The people who learn and work at CAT — our students and staff —  and the people who gave them life  — our families — are phenomenal.  Our "gem of Excelsior" is a small but mighty community.
RESILIENCE: Our students define what it means to persist!
RESULTS: Our students succeed: we consistently have an over 95% high school graduation rate and an over 80% 4-year college acceptance rate. And just in – CAT is now an 8/10 on greatschools.com.
Download the invitation here!  Hope to see you there!